The Back Story
Banana Moon are a UK market leader in personalised clothing offering a wide range of personalisation options. Through their e-commerce website customers are able to purchase customised garments from a range of brands. The nature of Banana Moon's business is very creative and visual, a lot of their customers have put time in to creating unique designs that they want printing or embroidering on to hoodies, t-shirts and more.
It became clear that there was a large increase of customers who wanted to see what their garment would look like before they purchased it. We worked collaboratively with Banana Moon to create a solution for this that allowed customers to preview their artwork and gave them the confidence to continue with their purchase.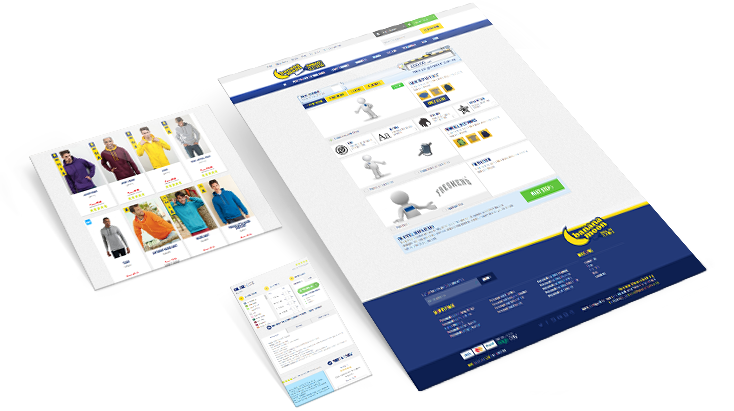 ---
The Challenges
This project had a few more challenges than your standard web project, we had to take a number of things in to account.
The Technical
Banana Moon offer over 2000 products across 167 categories. Not only that, they have a massive 55 personalisation options to choose from with a wide range of colours and finishes for each. Each product can have different personalisation's available based on the type of product.
A lot of personalised clothing previews allow customers to drag and drop their images wherever they like. In reality, this is not a true representation of what the end garment will look like. Print and embroidery machines have their limitations and it was important to Banana Moon that customers weren't mislead, so every personalisation would need to be positioned on the garment in the same location it would actually be applied.
The Experience
As with any image upload process we needed to think about the different file types we would allow and how each would be processed. A lot of potential customers will not know the difference between file types and system settings may hide file extensions so it was important to allow a number of different types to be uploaded.
Perhaps the biggest challenge to overcome was background colours on images. Customers don't tend to be professional designers, therefore their images can quite easily be things like a silhouette on a white background. When this gets uploaded to the garment it's important to make sure the unwanted background colour is removed.
---
The Solution
The solution we implemented needed to be easy to use, quick and adaptable to lots of different types of artwork and designs. The ability to upload a logo is built in to the personalisation process, which means that the user doesn't have to leave their current journey. Uploading the artwork at this stage has meant that the Banana moon team don't have to chase artwork up after an order has been placed saving time and headaches.
Based on our understanding of the target customer's needs and expectations we added basic editing functions that allow them to rotate and crop images. Introducing features like this gives users more control over their artwork, allowing for more personalised, unique garments that are ultimately more valuable.
Once a customer is happy with their artwork they can preview it on the garment to get an idea of colours, size and position of the final product. The ability to approve a proof at this point means that the Banana Moon team can take an order straight into production speeding up turnaround time for both themselves and their customers.
---
Conclusion
The goal of this project was simple, increase the overall conversion by giving the customer more confidence to complete their purchase. We did this by implementing a user friendly garment preview that allowed customers to see what their garment would look like before they purchased.
We measured the success of this implementation using our analytics setup. Every step and action that a customer was able to take was measured which gave us a very clear picture of how users are using the preview and the overall success of the project.
Customers that used the garment preview were 106% more likely to complete their purchase with the average order value increasing by 33%. Interestingly, but perhaps not surprisingly the more customers interacted with the artwork editor the higher their chances of completing an order. This relates to people investing time in their journey – the more invested the user is the more likely they are to purchase.