Speedway is a sport I've grown up with and have a great appreciation for. When my father retired he had broken the record for domestic appearances (1,132) in British Speedway, overtaking the record previously held by my Uncle Les.
That's not to mention my uncle Peter who has a World Championship to his name; he became a respected commentator on Sky Sports in his later years, earning himself an MBE for his services to the sport. My cousins Chris and Aidan also raced, but have retired although Aidan is currently a Champion in another motorcycle sport: Flat Track.
For those that don't know what Speedway is, or have never heard of the sport, it consists of 4 riders per heat who race each other over 4 laps round an oval track. Each placed rider will receive points depending on where they finished: 0 points for 4th, 1 point for 3rd, 2 points for 2nd and 3 points for 1st. 
If you want to know more about the sport, carry on reading my Top 10 Speedway Facts.
1. Kevlar
Kevlar is paramount when racing Speedway coming off a bike at high-speed without it would see you lose skin in an instant. Most Kevlar's are costumed designed by the rider accompanied by sponsor's logos. Before Kevlar's riders wore leathers, which were heavier but had more protection, now riders have to compensate with under armour.
---
2. Helmets
Present day helmets feature full facial protection and are aerodynamic. To identify the 4 riders easier during a race they are equipped with a helmet colour which can be either be red, blue, yellow or black and white.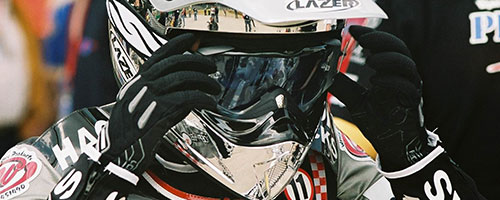 ---
3. 80 mph no brakes
Yes, no brakes! It's a scary concept flying round a track of speeds of up to 80 mph's with out brakes, but this is where the quality of a rider is revealed, only relying on the clutch and the throttle to drift the bike round corners, one slight error could see the bike spit you off without mercy.
---
4. The fans
Speedway was a much bigger sport in the 20th Century attracting fans in the thousands. These kinds of figures can still be seen today, but are usually at the major race events rather than domestic League races. Speedway is regarded as one of Poland's most popular sports, boasting some of the best riders, biggest tracks and crowds.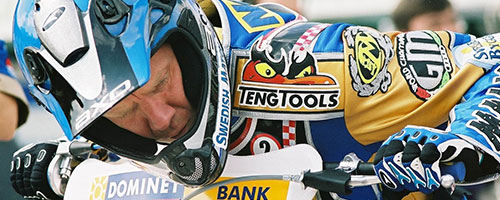 ---
5. The bikes
The speedway bike is much lighter than most motorbikes, with an engine size of 500cc it runs on methanol. It's common for the rider's bike to match the rest of the rider's attire.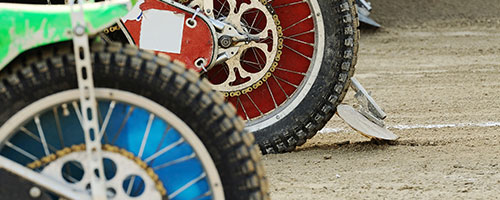 ---
6. The Air Fence
Overlooked and not very pretty but has saved many from serious injury, even death. The safety fence has only been implemented in the last 10 years but now sees riders walk away from crashes that before would have seen them hit a solid fence with very little give and a very different outcome.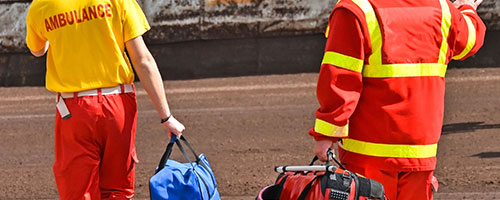 ---
7. The Speedway Grand Prix
16 of the best riders from all over the world compete to earn the title of World Champion. Competitors face 5 heats in attempt earn as many points as possible to make it to the Semi and from there the Final.
---
8. Speedway World Cup
Top riders from each country come together to compete in the World Team Cup this year sees the Final take place in the new stadium located in Belle Vue, Manchester.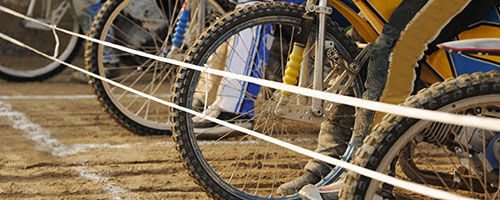 ---
9. Its History
Orginally Speedway was called dirt track racing and was created by a man named Johnnie Hoskins from Australia. He brought the sport over to UK.
Sir Arthur Elvin, the chairman of Wembley Stadium, asked Hoskins to promote Speedway at Wembley in the 1928 season.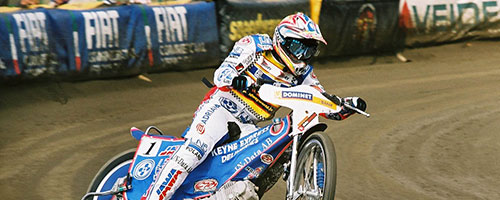 ---
10. Tai Woffinden
Tai Woffinden is the current World Champion. Tai was born in Scunthorpe, brought up in Australia and came back to UK at 16 to further his career in the sport. Tai considers himself a British citizen and does so by flying the flag for Great Britain. You can watch Tai defend his title on the 11th June. He currently sits 2nd in the standing to USA's Greg Hancock after to 2 rounds of the Grand Prix.